"PEOPLE MAKE THE
DIFFERENCE!
"
Best tagline I've ever heard.
WLS-TV/ABC7Chicago used it in a popular promotional campaign when I was an Anchor/Reporter in my "Sweet Home, Chicago!"
I worked at the #1 TV station in the #3 market as a News Anchor and Reporter for 12 years, from 1998 to 2010.
Covering the day's Top Story and going "Live at 5″ from every neighborhood in the city of Chicago and the surrounding suburbs left me with one heck of a Fileofax! If I Google Translate that for 2020, it means my iPhone contacts app is several thousand deep, he said while wearing that special shade of ABC7 Chicago Royal Blue. Yes, I still have lots of Circle 7 Pride!
I also have sources and resources few others can match. There's always someone I can count on when hurdles pop up on our way to Closing Day.
I am even more proud to be a member of the HomeSmart Connect Real Estate team. Our intrepid leader, Managing Broker, Bill Flemming, is the smartest, nicest, hardest working, and most respected person I have met in all of Chicago Real Estate.
Plus, HomeSmart Connect's Front Desk and Support Staff is beyond excellent; a reflection of our wise leader. And then there are my colleagues, so many of them are veteran agents who've made "the smart move," by joining HomeSmart Connect. I love it!
You will, too. I'll make sure of it.
I pride myself on providing outstanding customer service with significant savings for my clients. Call me today so we can schedule a brief introductory meeting. List with me and I will save you a lot of money compared to old-school brokerages still demanding 6% commission for selling your house. I'm talking about a difference worth several thousand dollars in most cases.
My goal is to make the process of renting, buying or selling properties easy and enjoyable for you. I employ all of today's high tech modern marketing strategies and tools, including a website devoted to your property as well as direct publishing and good old fashioned door to door sales techniques that work. Top dollar, shortest amount of time. Kevin Roy, Reporter, REALTOR®, specializes in delivering good news. And who couldn't use a little good news, especially during this unprecedented Pandemic.
Fact is, the sky isn't falling. I believe in safety first. I always wear protective gear, face masks, gloves, sanitizer, and elbow bumps instead of hugs, for now, at least.
My HomeSmart-est clients understand THIS IS A GREAT BUYING OPPORTUNITY! Don't sit on the sidelines waiting to see how this will all pan(demic) out. (Bad pun intentional.) But COVID-19 is no laughing matter. That's why I believe in and offer virtual showings and virtual open houses. I am also available to schedule private showings. We can still go see properties in person together as long as we're all protected and safety is our top priority.
I've won 6 Emmys, had a Fellowship with the Carter Center's Mental Health Journalism Program and was #1 in the Nielsen ratings everywhere I worked during my 25-year broadcasting career.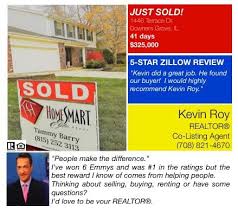 But I know what really matters. The best reward I know of always comes from helping people.
Work that matters. Improving and changing lives for the better.
It's hard to beat that great feeling that comes when we find your very own McDreamy!
I know how lucky I was to have grown up in River Forest and to be a member of the Class of '86 who graduated from Oak Park River Forest High School where you can find me on the Wall of Fame, along with Author Ernest Hemingway and Ray Kroc, Founder of McDonald's.
It's also where I interviewed my F-P-O-E, Favorite Person On Earth, Oprah Winfrey! Oprah was Guest Speaker for Oak Park River Forest High School's assembly on the first Dr. Martin Luther King, Jr. Federal Holiday. I had 12 minutes to interview Oprah for "The Trapeze," the student newspaper and our student TV News Program, "Newscene," beforehand. Her visit to the high school came one day after she was nominated for an Oscar Award for her work in "The Color Purple." Click here to watch "My Plum Assignment!"
These days, I live in Forest Park, along with my best friend, Harpo, named after Harpo Productions.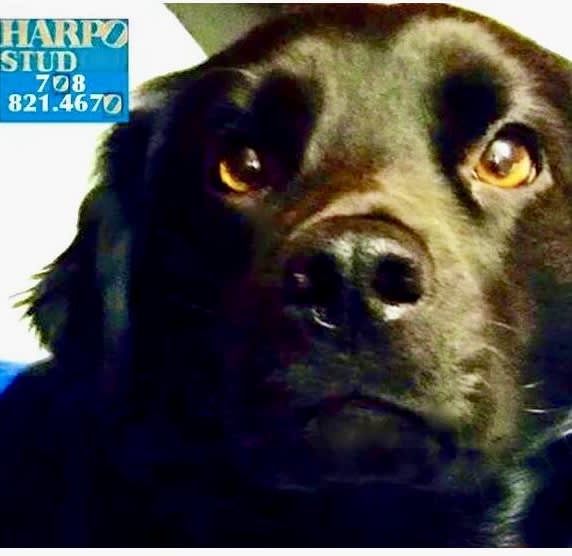 That's Oprah spelled backwards, as I'm sure all of you good people trying to live your best lives knew already.
I graduated #1 in my class from the University of Missouri-Columbia Journalism School, Summa Cum Laude, with a 3.98/4.00 GPA.
And I've worked for TV stations in Cedar Rapids, IA; Louisville, KY; Washington, DC; Portland, OR; Chicago and San Diego, CA.
I'd love to be your REALTOR®, so please
call me today at 708.821.4670.
Thank you!
Sincerely,
Kevin Roy, REALTOR®
HomeSmart Connect Real Estate
7449 Washington St., #108
Forest Park, IL, 60130
The favor of a reply and your Real Estate referrals are greatly appreciated and always rewarded with a valuable gift card to a place of your choosing.